About Affinity RV in Arizona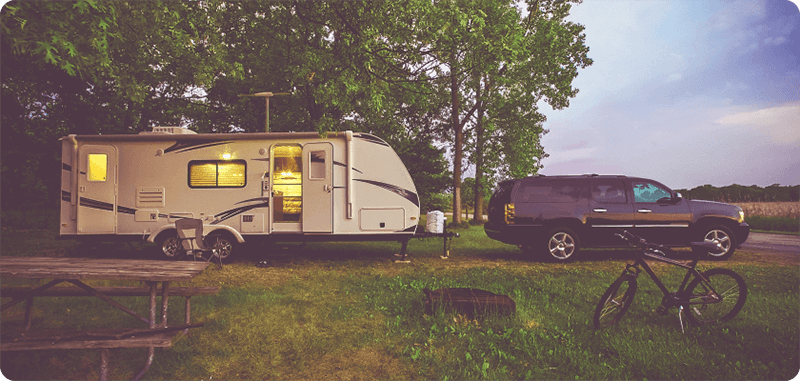 "Affinity - A natural feeling of kinship that brings people or things together"
​
It was from this definition in 2006 that we developed our name, Affinity RV, and our motto, "Bringing Family and Lifestyle Together."  In our experience, spending quality time with family and friends creates the most meaningful memories, and to us, that's what RVing is all about. 
Our knowledgeable sales staff is always happy to help answer any questions you may have. We take pride in providing a family approach to buying rather than a high-pressure sale - after all, you're looking for a RECREATIONAL vehicle, it should be fun! Ultimately, the salesperson's goal is to help you find the vacation you need in the RV you want.
We know that everyone's needs are different, so we give you plenty of options. We carry over 70 brands and over 280 floorplans from nine of the nation's leading manufacturers - the largest selection in Northern Arizona. Within those manufacturers, we've been awarded the Circle of Excellence every year since we became a dealer from the #1 motorhome manufacturer in the country - Winnebago. Also from Winnebago, we've entered their Top Twenty, and have become a piece of their "pie," signifying that we make up over 40% of their sales in Northern Arizona. We are also the proud recipients of the RVB Top 50 dealerships in the U.S. and Canada 8 years in a row as well as 1 of only 5 Elite Blue Ribbon dealerships of the Top 50 in 2016, 2018 and 2021 the only one in Arizona.
Our parts department offers sales and specials that change monthly, so be sure to check often to get the best deal on the parts you need. Our Parts Specialists are RVDA Certified. 
Our service department is staffed with RVDA certified Service Advisors and RVDA, ASE certified technicians and Managers. We work on Caterpillar, Cummins, Onan, Workhorse, Spartan and Allison transmissions to better serve our customers. From fold down tent campers to Class A diesel pushers, our service department can get the job done. Our Warranty department is also RVDA certified. We have a strong transient philosophy to help out travelers.
We also provide a dump station that's available 24 hours a day, 7 days a week and is staffed during week day business hours. We'll wash your windows, check your tires and help you dump and flush all in one location at no charge to you. We'll also fill your propane at no charge except the cost of the propane.
Affinity RV is a dealership dedicated to our customers - past, present and future. Our mission is to provide you with quality products, at fair prices with exceptional service. We invite you to come visit, have a look around and meet the people that you can trust with all of your RV needs.
Sincerely,
Robert A. Been
General Manager
The staff at Affinity RV appreciate being in the community. These are some of the organizations that we support:
Arizona Softball Association
Battle of the Bands - Prescott Valley
Big Brothers Big Sisters
Catholic Social Services
Catholic Charities
Child Protective Services - Yavapai County
Chino Valley Youth Football and Cheer
Community Pregnancy Center
Cowboy Poets Gathering
DAV Chapter 16
Dancing for the Stars/ Boys & Girls Club
Ed Lepordo Memorial Golf Classic
Get Real Men's Expo
Habitat for Humanity - Tri-city area
Heritage Park Zoo
Horses with Hearts
John Hanna Memorial Golf Classic
Kayla's Hands Playground
Kiwanis International
Mile High Challenge - Main Sponsor 
Mountain Top Street Riders
Mountain Valley Regional Rehabilitation Hospital
M.S. Youth Sports Program - Prescott
Prescott Area Leadership Man & Woman of the Year
Prescott Child Development Center
Prescott Frontier Days Rodeo
Prescott Frontier Rotary
Prescott Girls Soccer League
Prescott Idol
Prescott Area Young Professionals 
Prescott Police Foundation 
Prescott Valley Police Foundation
RVDA Foundation
Safeway Foundation
Salvation Army - Prescott
Seniors Softball
Silent Witness - Yavapai County
Shadow Foundation - Main Sponsor The Big Sting
Stepping Stones
Summer Concert Series
US Marine Corps Toys for Tots
Valley of Lights
West Yavapai Guidance Clinic Foundation
Winnebago Itasca Traveler's Club
Yavapai Big Brothers Big Sisters
Yavapai Boys and Girls Club
Yavapai County Contractors Association
Yavapai Food Bank
Yavapai Humane Society
Yavapai Roadrunners
Young Life - Prescott 
Awards Collection:
10 year award Jayco
10 year member Spader - Spader Business management 20 Group
15 Year Keystone
RVDA Chairman's Service Award - 2012
Chamber of commerce Business of the Year awards
Circle of Excellence Winnebago- Every year since becoming a dealer
Commitment to Customer Service Coachmen
Lance Elite Dealer
Owners Pledge Grand Design
PIE Award (Partner in Excellence) measurement of market share 31.0% Winnebago
Prescott Valley Chamber of Commerce Certificate of Appreciation
Pride Award ARI Channel Blade Website Design
RVDA Chairman Service Award
Top 20 Winnebago every year since becoming a dealer
Winnebago 20/20 Vision award every year since inception
RVB Top 50 award - 2015
Top Dealership Lance
Top dealership Jayco
20 Year member Prescott Chamber of Congress

RVB Top 5 Elite Blue Ribbon Top 50 Award - 2016
RVUSA.com Featured RV Dealer
Best of Yelp - Prescott & Prescott Valley - 2016/2017/2018/2020/2021
RVB Top 50 Award - 2017
RVB Top 5 Elite Blue Ribbon Top 50 Award - 2018
RVIA 40 under 40 - Daniel Turk
Daily Courier Reader Choice Award "Best of the Best" 2019
RVB Top 50 Award - 2019
Prescott Chamber Excellence in Business Award - 2019
Daily Courier Reader Choice Award "Best of the Best" 2020
Flying W Winnebago award of excellence - 2020
Flying W Winnebago award of excellence - 2021
Daily Courier Reader Choice Award "Best of the Best" 2021
RVB Top 5 Elite Blue Ribbon Top 50 Award - 2021
RVB Top 50 Award - 2022
Flying W Winnebago award of excellence - 2022
Daily Courier Reader Choice Award "Best of the Best" 2023
RVB Top 50 Award - 2023