RV Sales Staff
Meet Our Sales Managers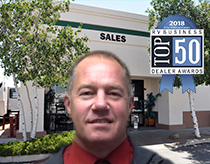 Rob Rolland
Finance Manager - Prescott Valley
Rob was born and raised in Great Falls, Montana. Rob finds satisfaction in helping people make their dreams come true. He enjoys spending time with his daughter doing outdoor activites. Rob enjoys the camping lifestyle and likes to get to the beach as much as possible.
Ian Isley
GM/Sales Manager RVDA Certified- Prescott
Ian was born in Mesa, Arizona and raised in Prescott, Arizona. He has spent his entire career in the RV insustry. He started out in the service department helping out, to becoming an RVDA certified technican, Service Manager, Sales Manager and has graduated the Blue Compass GM course. In his spare time he likes spending time with his wife and son, camping, rafting and working on things. He helped write the RVDA technician training manuel, he won the Spader Scholorship and was named one of the RV Pro 40 under 40 in the RV Industry. Ian enjoys helping customers and co workers.
Meet Our Prescott Sales Team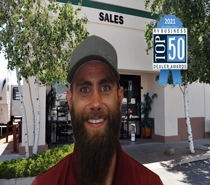 Anthony Brigante
Certified Sales Consultant
Anthony was born in North Stream, New York and raised in Prescott, Arizona. He has been in sales for the last 5 years. He served in the U.S. Army. In his spare time he likes to camp and explore all the different things Arizona has to offer. Anthony trains in competitive mixed martial arts and in competitive shooting. .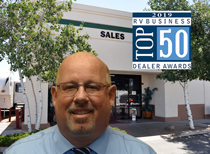 Don Malcolm
Certified Sales Consultant
Don was born and raised in Chicago, Illinois. He moved to Arizona in 2005. He is married with 3 grown children. Don loves traveling around Arizona in his RV searching for interesting destinations to share with our dealership guests.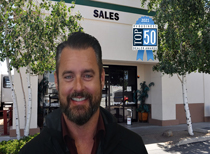 Russell Roberts
Certified Sales Consultant
Russell was born in Hanford, California and raised in Pearce, Arizona. He likes to cook, travel and run his bar downtown. He has a young son. Russell loves to help people find the right RV and start their Lifesyle adventures.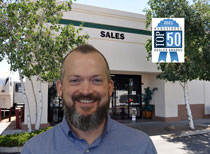 Aaron Grafe
Certified Sales Consultant
Aaron was born in Los Angeles, California and raised in Tempe, Arizona. He is a 5th generation Arizonan. He graduated from UofA and lived in Tucson for 13 years before moving up to Prescott. He came to Prescott to enjoy the beautiful outdoors and the pace of life here. Aaron has been in sales his entire career and prides himself on knowing his products and sharing his enthusiasm for them with all his customers.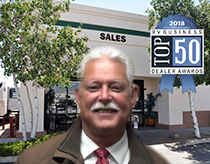 Paul Steele
Certified Sales Consultant- IN LOVING MEMORY
Paul was born in Racine, Wisconsin and raised in Cave Creek, Arizona. He enjoys listening to peoples experiences and finding the right RV for them. He has been married for 36 years and enjoys golfing and fishing. Paul has four grandchildren.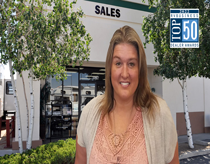 Certified Sales Consultant
Shelly was born in Escondido, California and raised in Washington State. She grew up playing sports and camping across the U.S. and Canada. She wanted to continue the family tradition with her two boys so she bought a Class C Jayco and started their adventures. In her spare time she likes to camp with her boys. Shelly loved the RV lifestyle so much she decided to become a sales person and help others find their perfect RV.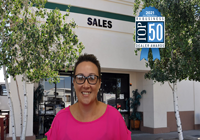 Heather Hoback
Receptionist
Heather was born in Fallon, Nevada and raised in Prescottt Valley, Arizona. Her husband was in the military for 12 and a half years so they lived in Texas and Hawaii as well. She has 3 beautiful daughters all born in Texas. In her spare time she likes to spend time as a family being outdoors, hiking camping, shooting and exploring the area she and her husband grew up in. She also likes crafting and decorating the house. Heather truly loves working with the Affinity Team.
Meet our Prescott Valley Sales Team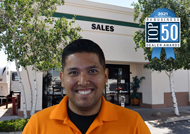 Gonzo Romero
Certified Sales Consultant
Gonzo was born in West Covina, California and raised in Tucson, Arizona. He likes to cook, snowboard and target shoot in his spare time. Gonzo loves helping his customers find the RV of their dreams.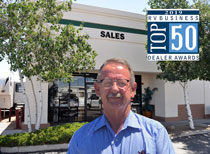 Joe Almand
Certified Sales Consultant
Joe was born in Riverton, Wyoming and raised in Tempe and Mesa, Arizona. He graduated with degrees from both Mesa Community College and ASU. He has been married for 37 years and has two grown children and two grandchildren. He enjoys the RV Business and has been involved in it for close to 5 years. When Joe isnt working he tends to spend time reading, playing acoustic guitar and fishing.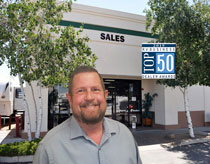 Mark Teeters
Certified Sales Consultant
Mark was born in Milwaukee, Wisconsin and raised in Arizona. He has been in the Prescott area for the last 23 years. He is married for the last 40 years to his high school sweetheart and has one son and a grand-daughter. In his spare time Mark likes to camp in our national forests.